Hurricane Florence wreaked havoc in North and South Carolina and the tragic images coming out of those states were heartbreaking. But one weatherman's epic struggle against the storm on live TV is now being roasted, and for good reason.
It all started out fine. Weatherman Mike Seidel did his part, struggling against the storm, and looking like he was going to be blown away. That is until two men walked by in the background, completely shattering his illusion.
So dramatic! Dude from the weather channel bracing for his life, as 2 dudes just stroll past. #HurricaneFlorence pic.twitter.com/8FRyM4NLbL

— Tony scar. (@gourdnibler) September 14, 2018

Of course, this led to all kinds of people roasting Seidel on social media. And it's hilarious. Enjoy. And to all the weather people out there, you went to school for meteorology, not drama.
The Weather Channel put this statement out, but it only made things worse.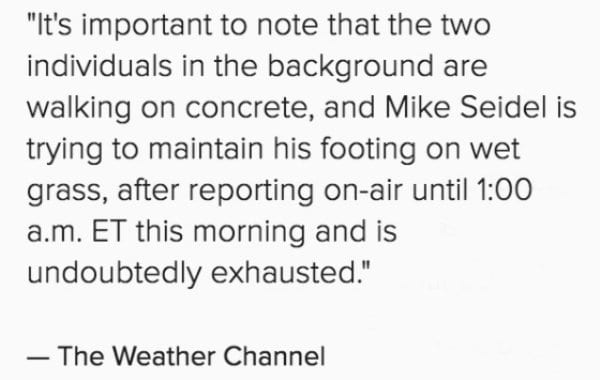 ---